Apr 23, 2009 Author: Suzy P | Filed under:
Caprice
,
Celebrity Fashion
As it's St George's Day, what better way to celebrate than to reveal Caprice's new Spring/Summer 2009 Swimwear Collection.
Featured in the new collection by Caprice, is the very patriotric special edition Union Cap bikini which has an all over Union Jack print in pink and red – perfect for the Summer!
Also in Caprice's new swimwear and bikini collection are a range of new prints such as cherries, hearts, stripes and nautical themes.
Available online through LittlewoodsDirect, Caprice's new beach collection is sure to turn heads in the sunshine and we reckon it'll be a huge hit just like her By Caprice lingerie range is.
Apr 10, 2009 Author: Suzy P | Filed under:
Female Fashion
British designer Lulu Guinnes is renowned the world over for her gorgeous designer handbags and we can see why.  Based in London's Knightsbridge, Lulu Guiness handbags are celeb favourites too and here's our favourites.
Lulu's new 2009 collection of handbags have been flying off the shelves and we're loving the Lulu Guinness Starfish Urchin Bag (pictured right).  The theme for the Spring/Summer 2009 collection is definately seaside and the Starfish Urchin, really does stand out and it's no wonder it's in the top 10
bestsellers list already.
Also on the top 10 bestsellers list, is the beautiful large Carmella black patent handbag (pictured left).
Big enough to carry all the daily essentials, the Carmella really is a must have for any busy bee who likes to look the part.
The black shiny patent leather is complete with a Lulu Guiness logo tab, as well as the handle being embossed with Lulu Guiness.  The Carmella handbag is also lined with the signature Lulu red lips logo to add that special glam effect.
Apr 10, 2009 Author: Suzy P | Filed under:
Fashion Offers
Maternity fashion site, FunMum.com have a cracking offer for Easter weekend with 30% off their egg-cellent maternity trousers and jeans. (sorry, that's the last of the Easter jokes!)
Being pregnant, doesn't mean you can't be fashionable and FunMum ensures that you can still strut your stuff.
With 30% off, that's an amount worth saving and there's no need for a promotional discount code – the 30% discount will be automatically applied online – see the full range on offer.
FunMum believe that being pregnant is the perfect time to experiment with new colours and styles, that's why we they were determined to turn the maternity wear industry on its head by creating a range of beautiful maternity clothes for a new generation of pregnant women. From everyday casual and work wear to special occasion wear, from jeans to underwear, FunMum puts the fun back into expecting mums and we say Amen to that!
Shop online at FunMum.com
Apr 10, 2009 Author: Suzy P | Filed under:
Fashion Offers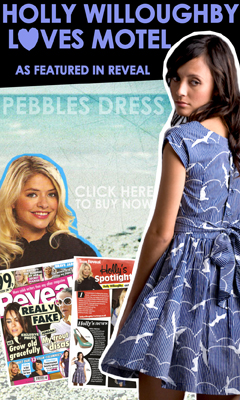 It's Easter and fab fashion site, MotelRocks have a cracking Easter gift for you in the shape of a 20% off promo code.
Forget Easter eggs, 20% off dresses is much preferred and this promo code for Motel Rocks will be definately well received.
Simply enter the promo code easter20 at the checkout at MotelRocks.com to claim your 20% discount.  Hurry as the offer can't last forever!
Click here to claim your 20% discount.
Happy Easter!